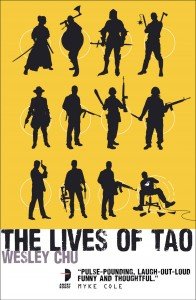 Today marks the launch of Wesley Chu's brilliant The Lives of Tao in paperback in the US and Canada, and in ebook worldwide. Somewhat unusually for Angry Robot, Tao is our only book this month – but fear not, we published three last month and we have three next month for you, so you won't be short on your robot fix, but for now it's all about Roen and his alien passenger, Tao.
The Lives of Tao
When out-of-shape IT technician Roen Tan woke up and started hearing voices in his head, he naturally assumed he was losing it.
He wasn't.
He now has a passenger in his brain – an ancient alien life-form called Tao, whose race crash-landed on Earth before the first fish crawled out of the oceans. Now split into two opposing factions – the peace-loving, but under-represented Prophus, and the savage, powerful Genjix – the aliens have been in a state of civil war for centuries. Both sides are searching for a way off-planet, and the Genjix will sacrifice the entire human race, if that's what it takes.
Meanwhile, Roen is having to train to be the ultimate secret agent. Like that's going to end up well…
And folk in the UK won't have to wait long for the paperback – it's out on Thursday (though some shops already appear to have stock)! One thing is sure, for the next month at Angry Robot, whatever day it is, it's bound to be Chu's Day!
"This book is high-octane spy vs spy action with a sly sense of humor. Pure pleasure from beginning to end. Highly recommended!"
– Ann Vandermeer, Hugo winning editor of Weird Tales and British Fantasy Award winning publisher of Buzzcity Press