Sometimes you read just the first few pages of a manuscript and know that you have to have it for your list. So it was with something called Seven Forges, that came in through last year's fantasy open door month. So our Amanda read it – because she certainly knows a great epic fantasy when she reads it – and she called the whole thing in and sent it to me, and I read it, and I bought it.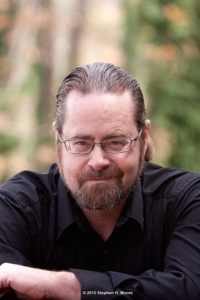 Often our open door submissions are from debut authors, but in Jim's case it was a change of subject and style that brought him to us. Over the last fifteen years or so, this Atlanta, Georgia-based writer has made quite a name for himself with a whole catalogue of acclaimed horror and dark fantasy titles, and earned himself a couple of Stoker Award nominations along the way. Now he's set his sights on something more widescreen, and we're delighted to bring it to you.
The Seven Forges of the title are a range of impassable mountains, far to the north of the settled lands of Fellein. From time to time explorers venture up beyond the Blasted Lands in search of a way over them and the promise of legendary riches, but without success. Now Captain Merros Dulver has found a path, and encountered, at last, the half-forgotten people who dwell there. And it would appear they were expecting him.
We prodded Jim with one of those long, slightly jagged metal things that are always lying around here, and he said: "I'm absolutely delighted to be working with Angry Robot Books and the amazing team they've assembled. They've been enthusiastic, caring and attentive, and now that the contracts have been signed I'm happy to report to the entire team that their loved ones will be returned home safely in the very near future, most of them no worse for the wear." See, one of us.
Seven Forges will be published by Angry Robot as soon as this October (yay!), with a second volume to follow next spring. Cover will be by the delicious Alejandro Colucci, and we'll show you that very soon. Greet James online on his blog and via Twitter.