Hello and welcome to a double-bank-holiday Easter special Robot Round-Up. No choccie eggs or anything, just lots and lots of luvverly links to some Red Hot Angry Robot Action. Without further ado:
It's US/Ebook release week for Black Feathers, the first part of Joseph D'Lacey's post-eco-apocalyptic dark fantasy duology, The Black Dawn and it's fantastic to see a whole gang of reviewers (of clearly impeccable taste, we might add) getting right behind the book:
• Chris at All Things Urban Fantasy, said: "D'Lacey does an excellent job interweaving the two narratives and the story moves along at a brisk pace … D'Lacey's definitely an author you should be checking out and this is an excellent book with which to start."
• Ryan at Fantasy Book Review said: "Black Feathers is one of the best books I have read this year … I don't think I've read a book quite like Black Feathers, but I know I liked it and I suspect that many of you will like it too."
• In the same double-header at Fantasy Book Review, Jasper added: "Black Feathers is a unique take on horror and it was for a me a story that did not turn out the way I expected. The narration of the book was great and it felt like the myth surrounding the Crowman is being read to me, being handed down to the next generation."
• Tabitha at My Shelf Confessions said: "Seldom does it happen that I get so upset by a book that I literally have nightmares after having read it … If you like a gritty apocalyptic that will have you thinking this may be for you but definitely not recommended for the feint of heart, there be no rainbows and fluffy bunnies here kiddos."
• Lou at More 2 Read said: "This story has epic qualities like that of The Dark Tower series by Stephen King that went on for many volumes. The Black Dawn Saga has plenty more to come in its next instalment".
• Leanna at Leeanna.me said: "Read it. If, like me, you feel like you've read every post-apocalyptic book out there, you haven't. Black Feathers is something different, with a new take on the end of the world."
Joseph was also interviewed by Leeanna at Leeanna.me, delving into the background to Black Feathers and the Black Dawn duology, and by Kristin at My Bookish Ways, talking about Black Feathers and his writing career to-date.
Also out this week we have The Age Atomic, the sequel to Adam Christopher's dimension-shattering debut Empire State. It was reviewed by Christian DuChateau for CNN.com, who said: "The Age Atomic defies classification as it incorporates elements across the sci-fi and fantasy spectrum. Christopher has let his imagination run wild, with some fantastic results." Christian also interviewed Adam in the same article – well worth a look-see. Chris at All Things Urban Fantasy also took a look and said: "You've got political intrigue, super heroes and villains, and a cracking good mystery. What's not to like? My only word of warning though is that this is not a series you can just jump in to. You do need to read the previous volume or you'll be completely lost. Which is a good thing, because the first book is stellar as well."
Speaking of Empire State, OzNoir posted a review at Just a Guy That Likes to Read, which concluded: "Empire State is not an easily definable novel in terms of confining it within a single genre as there are simply too many facets and faces to the story Christopher tells … This is a must read for fans of superhero and sci-fi fiction."
Adam has also been doing a superb job of putting himself about online this week, with a guest post on John Scalzi's Whatever on the subject of The Big Idea behind The Age Atomic, another guest post for Mary Robinette Kowall, telling her all about his Favourite Bit from the book, He's also answered Ten Questions put to him by the mighty Chuck Wendig and was interviewed by Lawrence M. Schoen for his regular Eating Authors column, on the subject of all things foody.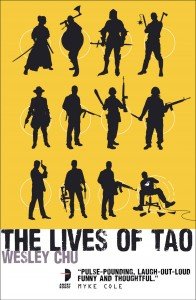 We've spot another couple of early reviews of Wesley Chu's forthcoming (May!) debut The Lives of Tao, from Lisa at Wilder's Book Reviews who said: "I think The Lives of Tao was very well done and I will definitely keep my eye out for the next one. Between the humor and the originality of the story, I would certainly recommend reading it." and from Josh at Examiner.com, who said: "The Lives of Tao marvelously casts all of war, science, politics, religion, and economics into a stark new light. It switches well between action-packed scenes and philosophical discussions about human nature and the pitfalls of manipulation, even guided by the best of intents."
Emma Newman's Between Two Thorns was reviewed by
Theresa at Terror Tree who said: "It has been a very long time since I have read a book that has enthralled me to the extent I become miserable at the thought of it ending. Well done Newman. I want more." Good news, Theresa: the sequel, Any Other Name will be out in June.
Matthew Hughes's third To Hell and Back novel, Hell To Pay, was reviewed by Mieneke at A Fantastical Librarian who called it: "a highly enjoyable read, with some interesting philosophical underpinnings and surprising twists. The book makes for a satisfying ending to the To Hell & Back series, which gave us a quirky, off-beat story about an unlikely super hero, with unexpected depths."
Ramez Naam's Nexus is still going strong, with new reviews this week from Stephen L. Macknik for the Scientific American Illusion Chasers blog: "This sophisticated page-turning techno-thriller is one of my favorite stories of all time … Naam is remarkable in his ability to address deep philosophical concepts while keeping the story line light, fast, and action-packed." and from Larry at 42 Webs: "Reading Ramez Naam reminded me of a time when I was younger, in my high school years, when I dove into books that some would say were well beyond my comprehension … I expect much from Naam. He is a talented writer who can produce hope like Crichton but still make us feel weary like Philip K. Dick." Larry also added Nexus (and the first To Hell and Back book, The Damned Busters) to his Top Ten Books I Recommend The Most list.
Lee Collins's weird western debut The Dead of Winter was reviewed at OwlCat Mountain: "I blazed through this book in record time and found much to enjoy. I'm looking forward to the second novel, which promises to be just as engrossing as the first. The Dead of Winter is a great read for these cold nights as we transition into spring."
Paul S. Kemp's first tale of Egil and Nix, The Hammer and the Blade, was reviewed by Mike at Stuff And/Or Junk: "The story moves fast, the dialogue is witty, the combat is oiled slick and the characters are crazy enjoyable. It's straight up fantasy but it's not kowtowing to the stodgy traditionalist parts of the genre. The Hammer and the Blade is fresh with life in it, the kind of fantasy novels I want more of."
Anne Lyle's first Night's Masque book, The Alchemist of Souls was reviewed by Lor for Wilder's Book Reviews, who had lots of good things to say about the book and only one that wasn't: "My only complaint about this novel is that it was over too quickly. My first read was in one sitting over about 6 hours. It is addictive, the characters make you care, and the setting is beautiful. What more can you ask for from a novel?"
Zoo City author Lauren Beukes – whose brand new novel The Shining Girls will be published in the UK and South Africa in a month or so and a couple of months later in the US – was interviewed by Sci Fi Now, wherein she explains how to write a science fiction novel (in case you've ever wondered…)
And finally, brand new Angry Robot author Freya Robertson has braved Lee Battersby's blog as a guest of his Room 102 feature, wherein she gets to remove something from the universe for ever and ever and ever. Which is nice.
That's your lot for this week. We're off to the pub for four days. Except for Angry Robot Lee, who'll be at Eastercon, in the bar, instead. Have a good holiday, everyone!