Hello and welcome to our regular round-up of all the Angry Robot flavoured online activity and coverage that we've spotted since the last round-up. Getting things under-way this week, he have:
More reviews of the first part of Emma Newman's fabulous The Split Worlds urban fantasy series Between Two Thorns:
• Paul Weimer, writing for the mighty SF Signal said it was: "An enchanting novel from Emma Newman, an urban fantasy that has no sign of tattooed women in leather pants. A headstrong scion and an investigator discover dark doings in the outwardly genteel world of Bath's secret mirror city."
• Shadowhawk of Founding Fields fame added: "Between Two Thorns is a book that is packed with a ton of things to entice the reader … I can definitely recommend this to readers of urban fantasy if you are looking for something different".
• Rebecca at Book Chick City said: "This was a well-crafted fantasy novel which makes a great start to a new series … I can't wait to see what happens next."
• Tsana at Tsana's Reads said: "Between Two Thorns is an excellent read and I highly recommend it to fantasy fans looking for something a bit different, particularly in the form of merging modern day settings with fantasy worlds."
Plus: a write-up of last week's Forbidden Planet London book launch was posted by Cavan Scott and Emma braved Chuck Wendig's online lair to answer Ten Questions About Between Two Thorns.
The first part of Joseph D'Lacey's post-eco-apocalyptic Black Dawn duology, Black Feathers, is almost upon us (late March / early April, folks!) and the always-Epic Dave-Brendon de Burgh had this to say about it: "As can be expected from Joseph's work, there are moments of horror, moments of wide-eyed disbelief, moments of laughter and tears and silence pregnant with either peace or rage. He managed to handle everything beautifully and with respect, making both his characters and the world they inhabit come alive." And Theresa at Terror Tree said: "The images of a bleak and savage world are genuinely horrific … Gripping stuff and I look forward to the conclusion of this tale." Theresa has also posted an interview with Joseph about his writing and plans for future work, at the same link.
Likewise, it's not long now until we unleash Adam Christopher's The Age Atomic, sequel to his terrific debut Empire State. Over at Daily Steampunk, Traveler had the following high praise to hand out: "The Age Atomic is another masterful tale by Adam Christopher. An action-packed noir Atompunk tale with more layers, facettes and twists than one would expect and which keeps the reader enthralled from the first to the last page. Highly recommended reading!" And Brandon at Every Read Thing had this to say: "While the ideas behind this series show that Adam is imaginative and bright, it's the writing that keeps you enthralled. I couldn't tell you the amount of evenings where I lost track of time reading this book – it's that good."
Brandon has posted his interview with Adam Christopher as well; plenty there on Adam's background as a writer, Empire State and The Age Atomic.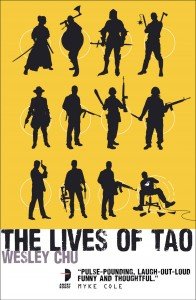 Wesley Chu's action-packed debut The Lives of Tao is a little further away (late April / early May) but we're already starting to see a review or two surfacing here and there, including one at Being a Big Sandwich, in which blogger Scott declares: "I would highly recommend this book to fans who like their espionage tinged with sci-fi, or vice-versa."
Eric Brown, in his latest science fiction column for The Guardian has this to say about Cassandra Rose Clarke's The Mad Scientist's Daughter: "the twist is that the cool, rational Finn is a robot, and Cat's love for him is unrequited because she ages while he does not, and he is not programmed to respond to her emotions. It's a neat premise and Clark examines the ramifications with the precision of a poet".
Peter at My Bookish Ways said of Ramez Naam's freshly movie-optioned Nexus: "reads like a high energy thriller and you'll find his reluctant hero, Kade, worth rooting for … Nexus is a strong, and exciting, debut from an author to watch!"
The first of Lee Collins's Cora Oglesby novels, She Returns From War was reviewed by Shadowhawk at The Founding Fields and Shadowhawk said: "She Returns From War is a most excellent novel, and lives up to the promise of The Dead of Winter." Word.
Madeline Ashby's vN was reviewed by Steve Jones for Terror Tree, who said: "vN is a thrilling adventure story with a well-developed cast of both humans and vNs, which challenges the meaning of being a person without ever being preachy about it."
Josh at In Order of Importance took a look at Chris F. Holm's first Collector novel, Dead Harvest and called it a "classic mix of deduction, ultra-violence, narrow escapes, shocking revelations, and sudden turns of fortune that make noir such a satisfying genre. Also, possessions, demons, seraphs, and lucky cat statues. Just fantastic enough to be entertaining, but not so unrealistic that it stretches the bounds of credulity."
And finally: the closing date for applications to be the Angry Robot Fiction Publicity Manager isn't until March 25th, so you still have plenty of time to polish your c.v. and hone your covering letter. Go on, you know you want to. We promise the implant procedures won't hurt too much…