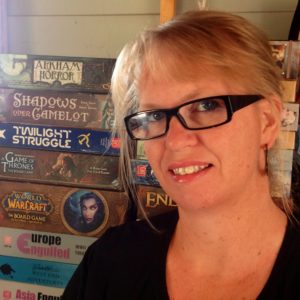 We are delighted – nay, ecstatic – to announce that we have bought the worldwide rights to a fantasy duology by Freya Robertson, beginning with Heartwood.
Freya is a lifelong fan of science fiction and fantasy, as well as a dedicated gamer. She has a deep and abiding fascination for the history and archaeology of the middle ages and spent many hours as a teenager writing out notecards detailing the battles of the Wars of the Roses, or moping around museums looking at ancient skeletons, bits of rusted iron and broken pots. She  also has an impressive track record, having published over twenty romance novels under her pseudonym, Serenity Woods.
She lives in the glorious country of New Zealand Aotearoa, where the countryside was made to inspire fantasy writers and filmmakers, and where they brew the best coffee in the world.
The rights to the series were agreed between Robertson and Angry Robot's Senior Bot, Lee Harris.
Heartwood tells the story of a dying land, a desperate quest and a love story of sorts, and the seven knights who travel the wilderness in a battle to save the land and its people. Oh, and the Darkwater Lords? Did we mention the Darkwater Lords? They're awesome!
Lee had this to say: "Heartwood is one of those books that screams 'Read me now!' and I knew we had to publish it within the first few pages. It's fantasy at its most epic, and at nearly 400,000 words across both volumes, it's a truly epic read, too!"
Freya said, "I'm thrilled to be welcomed onto Angry Robot's superb team and, as a New Zealand writer, pleased to bring a little bit of Middle Earth to the table :-)"
Heartwood will be published in early 2014, with the sequel to follow later in the year.
You can find Freya's website here and on Twitter as @Freya_Robertson.