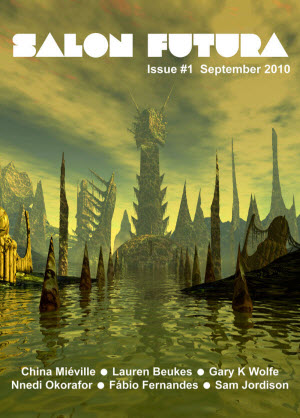 There are plenty of good online SF magazines around, and more appear on a regular basis. Most of them disappear again, pretty quickly, but we have high hopes for the latest one to launch – Salon Futura.
Why is this one different? Well, it's been created by (multi Hugo Award-winning) Cheryl Morgan. Cheryl knows pretty much everyone in the field of literary SF, and as well as being a very respected SF critic and fan, she has a superb track record. Not only will Cheryl be able to attract the big names of SF, she'll also be able to attract the interesting ones (though of course, there is overlap).
There are plenty of interesting articles and interviews in Issue 1, which is presented as a mix of written and video features.
Read it here, and don't forget to bookmark it, or add it to your RSS feed.