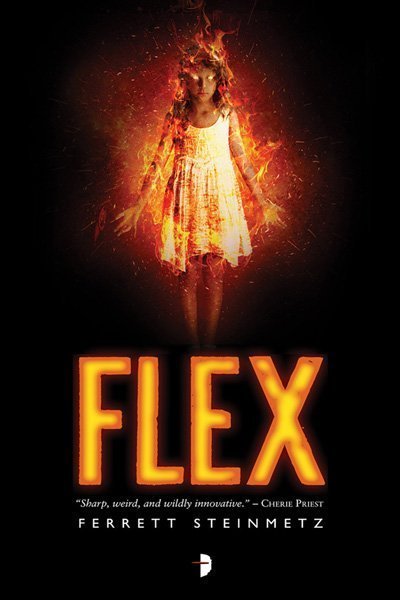 Flex
"Flex is a real gem – sharp, weird, and wildly innovative. It zigs when you think it'll zag, then tricks you into screaming when you're ready to laugh out loud. So drop everything and settle in for the night – because once you open this one, you're not going anywhere."
– Cherie Priest, author of Boneshaker, winner of the Locus Award for Best Novel and the PNBA Award.
---
A desperate father embraces forbidden magic, drawing from his obsession with bureaucracy in order to save the life of his injured daughter.
---
File Under: Urban Fantasy [ Magic Pill | Firestarter | Bureaucramancy | The Flex & The Flux ]
---
The First Book in the 'Mancer Series
Buy the ebook version now – only
£

2.99
SKU: AR9780857664600
A desperate father will do anything to heal his daughter in a novel where Breaking Bad meets Jim Butcher's The Dresden Files.
FLEX: Distilled magic in crystal form. The most dangerous drug in the world. Snort it, and you can create incredible coincidences to live the life of your dreams.
FLUX: The backlash from snorting Flex. The universe hates magic and tries to rebalance the odds; maybe you survive the horrendous accidents the Flex inflicts, maybe you don't.
PAUL TSABO: The obsessed bureaucromancer who's turned paperwork into a magical Beast that can rewrite rental agreements, conjure rented cars from nowhere, track down anyone who's ever filled out a form.
But when all of his formulaic magic can't save his burned daughter, Paul must enter the dangerous world of Flex dealers to heal her. Except he's never done this before – and the punishment for brewing Flex is army conscription and a total brain-wipe.
| | |
| --- | --- |
| Series | 'Mancer |
| Publication date | |
| Cover Art | Steven Meyer-Rassow |
| Ebook | 3rd March 2015 |  9780857664617 |  Epub & Mobi | RRP £5.49 / US$6.99 |
| US Print | 3rd March 2015 |  9780857664600 |  Massmarket Paperback | RRP US$7.99 / CAN$9.99 |
| UK Print | 5th March 2015 |  9780857664594 |  Paperback | RRP £8.99 |
| Goodreads URL | Discuss and Review Flex |
"Do you like magic? Do you like drugs? Donut-based psychological theories? Video games? Do you like PAPERWORK!? Read this book!"
– Ann Leckie, author of Ancillary Justice and winner of the Hugo, Nebula and Arthur C. Clarke Awards
"Big ideas, epic thrills, and an unlikely paper-pushing hero you'll never forget. Just when you think you know what's next, the book levels up spectacularly."
– John Scott Tynes, author of Delta Green: Strange Authorities
"Amazing. I have literally never read a book like this. Read this NOW, if only to be forced to turn the page wondering what the hell Steinmetz is going to come up with next."
– Mur Lafferty, Campbell award-winning "Best New Writer 2013" and author of The Shambling Guide to New York
"Featuring one of the most original magic systems ever devised and a pair of likable, layered protagonists, Flex is a fast-paced, imaginative, and emotionally engaging adventure. The developing friendships and rapport among the characters are portrayed with sensitivity and avoids cliches, and the magical battle sequences are rigorous and filled with ingenious touches that will make gamers and tax lawyers alike grin with joy."
– Ken Liu, winner of the Nebula, Hugo, and World Fantasy Awards
"Flex is hot, inventive, and exciting.  A real joyride of a story … a whole new kind of magic and a whole new ballgame. Totally recommended."
– Seanan McGuire, winner of the John W. Campbell Award and Hugo-nominated author
"Flex is a breath of magical, drug-addled, emotionally tortured fresh air, with one of the most unique and fascinating main characters I've read in ages. In an urban fantasy genre filled with handsome vampires and sassy witches, Ferrett presents us with Paul Tsabo – a Greek insurance adjuster with a prosthetic foot, forced into the half-mad underworld of a reality-bending narcotic to save his daughter from a devastating house fire. With great characters, evocative writing, and boundless creativity, Flex is one of the strongest debut novels I've ever seen, and one of my favorite novels of the year."
– Dan Wells, author of I Am Not a Serial Killer
"Half part Breaking Bad and half part urban fantasy, Flex is an enthusiastic romp through a world of ingenious magic accessed by geeky, obsessive projection. Tremendously entertaining rule-tinkering and loophole-hunts abound. A terrific read."
– Robert Jackson Bennett, author of American Elsewhere
"Not since Philip K Dick started toying with reality for fun and profit has there been a novel so enjoyably hallucinatory as Flex.  A heady mix of the surreal and the mundane, it will appeal to fans of video games, donuts, insurance, bureaucracy and crime families.  Oh, and modern day mage wars. Yet for all of its wild plot, this is a story about the tender bond between parents and children, the loyalty of friends and how the odd among us find their places in the world. Ferrett Steinmetz has written a page turner!"
– James Patrick Kelly, winner of the Hugo, Nebula and Locus Awards
"By the end of the book I was just kinda running around and around in circles, just going "oh my god, oh my god, oh my god" and just destroying my friends with spoilers and outright demands that they have to read this book because it just blew me away… I rarely encounter books that just have my jaw dropping open at how good they are and how they ramp up to an incredible ending."
– Cassandra Khaw, author of  Hammers on Bone
"When we think of magic users in fiction, we tend to think of magicians like Dumbledore or Gandalf: wise, old graybeards whose professorial robes invoke their deep education into occult arcana. They are cool, collected practitioners of their arts. Even less establishment sorcerers tend to have a sheen of coolness about them; think of Kate Daniels or Harry Dresden, swathed in black, working as mercenaries or detectives, out in the thick of it. Which is why it is so utterly charming to meet Paul Tsabo in Flex, the debut novel from Ferrett Steinmetz".
– Barnes & Noble
"A well-paced, sometimes serious, sometimes zany mission to save the world from a mass murderer, with some moral dilemmas mixed in for spice, Flex was an enjoyable read that ended up somewhere close to Breaking Bad by way of Scott Pilgrim versus the World. [4 1/2 stars]"
– Speculative Post
"Ferrett takes the "people learn how to do magic, will they use it for good or ill?" question and blows it right open, exposing the soft underbelly of a society that first resorts to fear and violence when faced with something they don't understand.  And I fricken' loved every word of it.  The magic is weird and soul-crushingly expensive, the characters are fantastic, the stakes are high, and the story is intimate. That my friends, is what I'm always looking for. Ferrett Steinmetz? the guy is a Wordmancer."
– Little Red Reviewer
"This book made me miss almost my tube-stop several times… You all should read this book!"
– Reading the Thing
"This world is amazing – just the idea that an obsession can bend reality enough to create magic is a brilliant one…The idea on its own brings something fresh to urban fantasy, and was enough on its own to draw me into the book. Steinmetz brings something new and fresh to the genre."
– Stephanie Gunn, writer for ASIF and judge of the Australian Shadows Awards
"Flex was an absolute delight to read, and my only real lament is that I can't cast some bureaucromancy of my own to conjure up the sequel right friggin' now".
– Michael Patrick Hicks, author of Convergence and Amazon Breakthrough Novel Award quarterfinalist
"The writing is tight, the plot intense, and the story wonderfully creative. Definitely a book for those who enjoy strong visuals and who want a book that inspires creative questioning, introspection, and who like a little wondering about the relation between reality and ourselves. Highly recommended for obsessive folks like myself!"
– Bibliotropic
"This is one of those books that just hit me perfectly."
– Bookaneer
"I loved Flex. All the thumbs up and all the stars checked."
– I, Fat Robot
"While there's a lot of urban fantasy out there, I think Flex might be the one I've read that best captures the spirit of the real world. It's part Breaking Bad, part social commentary and part magical tale with all of the confusion and ambiguity of our times."
– The Royal Library, Hall of the Mountain King
"Just don't make the mistake of thinking this is a shallow, just for thrills book. There is more there than just a surface level action story. The very nature of how abilities manifest, the fact that 'mancers tend to be lonely people with some sort of problems in their life, the cost of the magic, the balance of flex and flux, and the stigma of being 'mancer in a society where magic is feared and loathed, all of these things speak at a deeper level if the reader chooses to go there. Flex is raw magic with a deep soul. Highly recommend."
– Tenacious Reader
"Pick this book up, people.  Highly recommended."
– Ideatrash
"I have no hesitation in recommending this book.  I don't have any criticisms.  In fact I can't conceive of anybody not liking it. I want more".
– Lynn's Book Blog
"I don't like using exclamation points, but this book deserves all the exclamation points.  Look, here's a whole bag!  They are to be placed after the words Flex and awesome whenever they appear! Flex! Awesome! Flex! Awesome! Flex!  You get the idea. The book's pacing was just right, the information drip satisfyingly steady but with enough mystery to keep me reading.  I wanted to find out who would do what and how.  I wanted to know who was going to win.  I wanted to know about motivations.  I wanted to see some more video game magic.  I wanted to read it whenever I had time. If I end up writing a list of my ten favorite books from my last five year's reading, this book is probably going to be on it".
– Book Punks
"All and all, it's one of the more original urban fantasty titles I've read in ages and it actually seems to be a stand-alone novel which is always a plus. If you're looking for a new read, and want something different, give this a look".
– Fantasy Findings
"Such a cool concept.  The magic and rules at play make sense and the author doesn't cheat just to get the characters out of a difficult situation.  The idea of there being consequences to the magic – a balance that must be maintained–that's very, very cool stuff".
– Eviscerating Pen
"I started reading it, and I couldn't stop. The writing is excellent, the premise unique, and the action feels almost non-stop."
– Sci-Fi & Scary Book Reviews
"This magic filled thriller gives you a touch of Breaking Bad while delivering an urban high fantasy.  Fast paced and high tension, Flex makes for an engaging read."
– Libromancer's Apprentice
"Flex is an urban fantasy with a number of unique elements that should make it flare brightly in a crowded subgenre."
– SFF World
"I am always on the look out for the next thing in fantasy and Ferrett Steinmetz' Flex completely lives up to this promise. It's fresh, it's exciting and it's a whole lot of fun to read."
– The Book Plank
"I'm going to go ahead and call this my Book of the Year."
– Sci-Fi and Fantasy Reviewer
"Flex is classified, in terms of genre, as "urban fantasy" rather than "science fiction"; but in fact it does what the best science fiction does. It extrapolates from actually existing conditions (in this case, those of neoliberal subjectivity) by proposing a novum, or a potentiality, that already exists in these conditions under the form of a haunting futurity: something that, in the words that Deleuze borrows from Proust, is "real but not actual"."
– Pinocchio Theory
"Flex by Ferrett Steinmetz may have the most unique fantasy voice I have ever read. There's action, humor, and unique ideas I found myself devouring as fast as I could. At first glance, Tsabo's magic power–bureaucracy–seems boring and sterile. But the way he utilizes his powers, is both refreshing and hilarious."
– Geekin' Things
"Flex is a clever, funny twist on both the urban fantasy genre overpopulated by werewolves, vampires and hard-boiled sorcerers. But it is also a wonderful deconstruction of the Breaking Bad story of the good man driven to evil by necessity and megalomania, because while Tsabo's story has a similar genesis as Walter White's he never becomes Heisenberg."
– Relentless Reading
"Flex is a weird, funny alternative to a crowded urban fantasy field overpopulated with vampires, werewolves and wizards-for-hire."
– The Nameless Zine
"I don't think think it'd be an overstatement to say that Flex delivers everything I wanted in a novel: action, geekery, realism, and fun. Trust me, you'll be missing out if you don't enjoy this must-read."
– Literary Escapism
"Flex was an instant hit with me. Obsessions that turn you into a magic mancer based on your obsession!? – How cool is that? Turns out not so cool for the mancers because all the things they do come with a nasty blowback that tends to destroy the things they care about. So why keep using your magic? Well because you're obsessed. Whatever your obsession is it, video games, fire, art, pencil pushing paperwork, death metal music. It was so much freaking fun to watch the way these obsessions turned people into mancers. Ooo I want to go on and on and tell you the cool things but I can't…cause that would spoil your fun."
– Not Yet Read
"This one-of-a-kind series (which saw two installments released this year) is what might result if you put Breaking Bad and Reddit in a blender and hit "frappe.""
– Barnes & Noble Sci-Fi Blog
"Flex demonstrated for me a great technique for creating that reader-to-character connection."
– David Vonallmen
"I couldn't put this book down. I loved this take on magic-this world of 'Mancers."
– Black Girl Nerds
"Steinmetz brings something new and fresh to the genre."
– Forest of Books