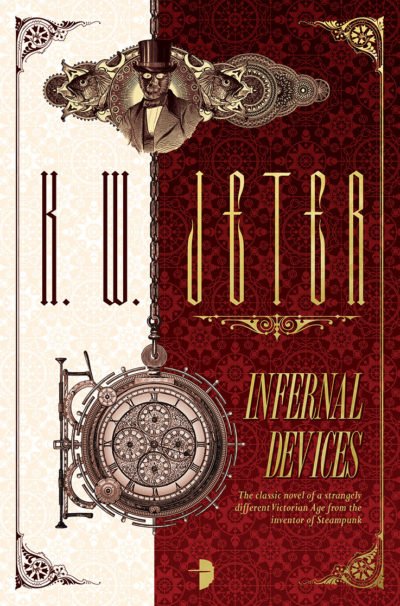 Infernal Devices
"This is the real thing – a mad inventor, curious coins, murky London alleys and windblown Scottish Isles … a wild and extravagant plot that turns up new mysteries with each succeeding page."
– James P Blaylock
---
A steampunk classic from the father of the genre – a classic tale of time travel, clockwork and sexual intrigue.
---
File Under: Steampunk [ Intriguing Tech | It's About Time | Musical Interlude | Classic Steampunk ]
---
The first book in the George Dower Trilogy
Buy the ebook version now – only
£

2.99
SKU: AR9780857666864
When George's father died he left George his watchmaker's shop – and more.
But George has little talent for watches and other infernal devices. When someone tries to steal an old device from the premises, George finds himself embroiled in a mystery of time travel, music and sexual intrigue.
The classic steampunk tale from the master of the genre.
| | |
| --- | --- |
| Series | George Dower Trilogy |
| Release Date | 2017-02-02 |
| Publication Notes | First published April 2011 in US massmarket paperback ISBN: 9780857660978 , UK paperback ISBN: 9780857660961 ,  limited edition hardback ISBN: 9780857664105 |
| Cover Art | John Coulthart |
| Ebook | 2nd February 2017 | 9780857666864 | Epub & Mobi | RRP £6.99 / US$6.99 |
| US Print | 7th February 2017 | 9780857666857 | Trade Paperback | RRP US$9.99 CAN$12.50 |
| UK Print | 2nd February 2017 | 9780857666840 | Paperback | RRP £8.99 |
| Goodreads URL | Discuss and Review Infernal Devices |
K W Jeter has created quite a marvelous world in Infernal Devices. Sometimes rather weird and alien but always consistent."
– The Traveler's Steampunk Blog"
This is the real thing – a mad inventor, curious coins, murky London alleys and windblown Scottish Isles… A wild and extravagant plot that turns up new mysteries with each succeeding page."
– James P Blaylock, author of Homunculus and Under London
"What we see in Infernal Devices is not just the presage of what steampunk is, but what it could have been, a marvelously self-aware and inventive attack on the obsessions and degradations of the present."
– Strange Horizons
"Goddamn, what a book. This is like H G Wells with H P Lovecraft's descriptions of darkness run through the mind of Sherlock Holmes writer Arthur Conan Doyle. It's about as screwy as it gets, complete steampunkery, with a duo who are scamming their way across the land through an entirely different set of devices. Must read… Pure joy. I couldn't set it down."
– SFBook.com
"Suddenly I can see exactly what the whole fascination with Steampunk is all about. Jeter sets the Victorian scene here so skilfully, it's absolutely perfect. I could easily have been reading a novel written in 1840. He's impressively deft and accurate in his language of the time, making the novel completely believable, and yet he still writes in a style that is effortlessly readable. His Victorian London is dark, menacing, and compelling."
– Fantasy Nibbles
"A delicious and quite insane romp through the gas-lit streets of London. Absolute must-read!"
– SFRevu
"I'll save you the trouble of reading this entire review by simply saying that K W Jeter's Infernal Devices is one of the best executed novels I've read in a long time, and I easily expect it to be one of my top reads for the year. I guarantee you will enjoy it."
– The Little Red Reviewer
"A truly fantastical journey that requires a suspension of disbelief – but makes you all the happier for it."
– My Shelf Confessions
"A skillfully handled, wonderfully inventive, and agreeably witty adventure."
– Kirkus Reviews
"Infernal Devices is a ripsnorting, grandly comical Victorian-era potboiler that is far more entertaining than the most recent Indiana Jones movie; indeed it is more exciting than any big budget Hollywood blockbuster that I have seen in the past five years. It is that rare book that is both literary and cinematic. You can't help but pine for a movie version even as you realize that it could never be as good as the book. It's full of crazy, clockwork automatons, cliffhanger chapter endings, sinister conspiracies, and gloriously impossible super-science. It is a book which will transport you to another reality."
– Tetsuo Broker
Praise for K W Jeter
"At times Jeter can be profound, deep observation swirling into the bizarre."
– Bearcave
"Jeter is an exhilarating writer who always seems to have another rabbit to pull out of his hat."
– The New York Times Book Review