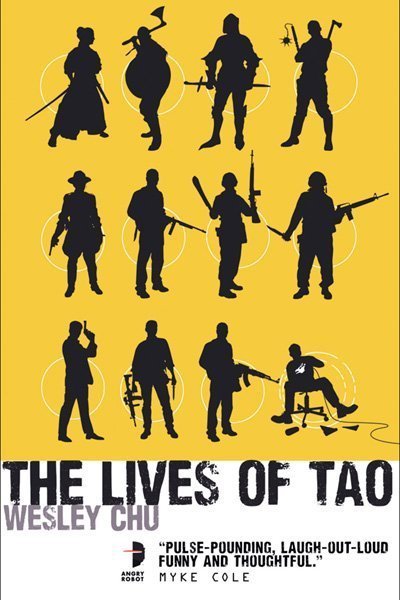 The Lives of Tao
One day an overweight slacker named Roen wakes up with a strange voice in his head. He soon comes to learn that the voice is a disembodied alien who crashed to earth millions of years ago. The alien, called Tao, is part of a cohort of aliens called Quasing that crash landed together. Since the fall of the Roman empire, the aliens have been waging a war to decide the best means to get home – the pragmatic Genjix do not care if their methods destroy humankind while the more gentle people of Tao's tribe are prepared to take a less destructive approach.
---
"Tipping his hat to both science fiction novels and comic books, Chu delivers a narrative that is at times pulse-pounding, laugh-out-loud funny and thoughtful. Part James Bond, part Superman, part Orphanage. There's something here for everyone."
– Myke Cole, author of Control Point and Fortress Frontier 
---
File Under: Science Fiction [ The Tug of War | I Was Genghis | Diary of a Slob | Spy vs Spy ]
---
The first book in The Lives of Tao series
Buy the ebook version now – only
£

2.99
SKU: AR9780857663306
When out-of-shape IT technician Roen Tan woke up and started hearing voices in his head, he naturally assumed he was losing it.
He wasn't.
He now has a passenger in his brain – an ancient alien life-form called Tao, whose race crash-landed on Earth before the first fish crawled out of the oceans. Now split into two opposing factions – the peace-loving, but under-represented Prophus, and the savage, powerful Genjix – the aliens have been in a state of civil war for centuries. Both sides are searching for a way off-planet, and the Genjix will sacrifice the entire human race, if that's what it takes.
Meanwhile, Roen is having to train to be the ultimate secret agent. Like that's going to end up well…
| | |
| --- | --- |
| Series | Lives of Tao |
| Publication date | |
| Cover Art | ARGH! Oxford |
| Ebook | 30th April 2013 | 9780857663306 | Epub & Mobi | RRP £5.49 / US$6.99 |
| US Print | 30th April 2013 | 9780857663290 | Massmarket Paperback | RRP US$7.99 CAN$8.99 |
| UK Print | 2nd May 2013 | 9780857663283 | Paperback | RRP £8.99 |
| Goodreads URL | Discuss and Review The Lives of Tao |
Winner of the John W Campbell Award 2015 for Best New Writer
Nominated for the Goodreads Choice Awards 2013 Finals for Best Science Fiction
Winner of the Alex Award for the American Library Association's 2014 Youth Media Awards
"Tipping his hat to both science fiction novels and comic books, Chu delivers a narrative that is at times pulse-pounding, laugh-out-loud funny and thoughtful. Part James Bond, part Superman, part Orphanage. There's something here for everyone."
– Myke Cole, author of Control Point and Fortress Frontier 
"Filled with non-stop action and brilliant asides on the history of our species, the book is sure to thrill and amuse."
– Ken Liu, Nebula Award winning author of The Paper Menagerie
"A totally original sci-fi thriller that will have you hooked from page one with both riveting action and a sly wit. This is a story of human history, the hidden powers that have shaped it, and one man's transformation from complete nobody to a key fighter in the war for humanity's future."
– Ramez Naam, author of Nexus
"Wesley Chu is my hero… he has to be the coolest science fiction writer in the world."
– Lavie Tidhar, World Fantasy Award winning author of Osama and The Bookman Histories
"In The Lives of Tao, newcomer Wesley Chu delivers an action-laced scifi thriller filled with clever ideas and witty, engaging characters. A thoroughly enjoyable ride."
– John Marco, Author of The Inhumans and The Tyrants And Kings trilogies
"A fast-paced, high-action SF mix of Jason Bourne meets the hero's journey, jam-packed with dark conspiracies, wild romance, ancient aliens, and a secret, globe-spanning war. Loved it!"
– Matt Forbeck, author of Amortals and Hard Times in Dragon City
"Just your usual 'I've got an immensely wise alien in my head who wants me to become and international man of mystery' story. Which is to say, a page-turning homage to other classic SF like Hal Clement's Needle. Recommended."
– Steven Gould, author of the Jumpers series
"In Wesley Chu's debut novel you meet an unlikely hero in the form of Roen, an out-of-shape, self-loathing, under-achieving computer geek. He is soon transformed into a confident, lean, mean fighting machine under the guidance and influence of the ancient alien Tao, who has inhabited his body and is now working hard to get Roen in shape for an important mission – nothing less than to take on the Genjix and save the planet from an evil plot of destruction. This book is high-octane spy vs spy action with a sly sense of humor. Pure pleasure from beginning to end. Highly recommended!"
– Ann Vandermeer, Hugo winning editor of Weird Tales and British Fantasy Award winning publisher of Buzzcity Press
"In The Lives of Tao, newcomer Wesley Chu delivers an action-laced sci-fi thriller filled with clever ideas and witty, engaging characters. A thoroughly enjoyable ride."
– John Marco, author of The Inhumans and the Tyrants and Kings trilogies
"One part Deep Space Nine, three parts Babylon 5, and two parts Chuck."
– Gini Koch, author of the Katherine "Kitty" Katt series
"As a novel, The Lives of Tao is a super-hero, science fiction, alien contact, and spy thriller all wrapped into one. It's also funny and thrilling with a touch of a buddy comedy thrown in. I got hooked right away and when all was said and done, I can safely declare it as my favorite novel of 2013 so far."
– Matt Hughes, Adventures in SciFi Publishing
"Few books begin more engagingly than The Lives of Tao, a science fiction romp which wears its principal strength – the wit and humor of the narrative voice – on its sleeve."
"Chu's good-natured adroitness with character development is matched by his thriller-style plotting, a fine blend of gentle humor and sharp suspense."
– Barnes & Noble Review
"If you want something to read on a plane or settle into over the weekend, this is the book you want to pick up. But like most great stories, there's a little more going on under the surface."
– SF Signal
"A science fiction story that is one part spy novel, one part buddy flick, one part comic book, one part eye-opener history lesson…among many other elements. Yes, it's a lot of parts, but they blend together quite well."
– Examiner
"Ian Flemming with lattes instead of martinis… The premise was fun, the pace was exciting, the writing was engaging, the story was compelling, the characters were likeable, and the humor was appealing."
– Fantasy Literature
"I would highly recommend this book to fans who like their espionage tinged with sci-fi, or vice-versa."
– Scott at Being a Big Sandwich
"I think The Lives of Tao was very well done and I will definitely keep my eye out for the next one. Between the humor and the originality of the story, I would certainly recommend reading it."
– Lisa at Wilder's Book Reviews
"The Lives of Tao marvelously casts all of war, science, politics, religion, and economics into a stark new light. It switches well between action-packed scenes and philosophical discussions about human nature and the pitfalls of manipulation, even guided by the best of intents."
– Josh at Examiner.com
"By the end of the books I was close to tears, which proves my emotional investment in the characters and their fates. I wish every book made me care about the characters as much as The Lives of Tao."
– I Will Read Books
"We get the full sci-fi feeling combined with the spy genre without either side getting diluted or ignored. We get the full effect and in turn get a character we care about."
– Tome of Geek
"The whole "aliens-on-earth-inhabiting-human-bodies" plotline has been done more than once, but not like this.  Once I started reading, I couldn't put it down. "
– Geeky Library
"There's plenty here to enjoy. Chu choreographs vivid action scenes, he injects humor seamlessly into dialogue, and he makes the world-building fun. Chu had all of history at his disposal, after all, and he took full advantage."
– Blackgate
"This doesn't seem like Chu's first book, he writes with panache, skill and confidence. His action scenes feel authentic, his world is intricate and believable, and he tells his story in a compelling manner that keeps you turning pages."
– The Irresponsible Reader
"Wesley Chu's Lives of Tao is one of those military science fiction novels that isn't afraid to have some fun in between the action scenes, or during them for that matter. Like John Scalzi (Old Man's War) or Larry Correia (Monster Hunter International) Chu manages to deliver a tense and thrilling plot while not getting bogged down in heavy and hard science."
– Serial Bookseller
"The Lives of Tao exceeded my expectations. I didn't know beforehand if this would be a good fit for my reading mood, but the combination of relatable and likable character in Roen with the deep but not overwhelming worldbuilding in the secret alien war and finally the cool spy action all made this one of my new favorite series. I hear it keeps getting better, so I'm excited for continuing on with The Deaths of Tao and The Rebirths of Tao. I enjoyed the audiobook narration so much, I'd really like to continue in that format."
– Adventures in Sci Fi Publishing (Audiobook Review)
"With a rewarding conclusion, The Lives of Tao is a highly recommended read from Angry Robot."
– T Bird Studios
"Such a fun, action packed, humor filled read."
– Purple Owl Reviews