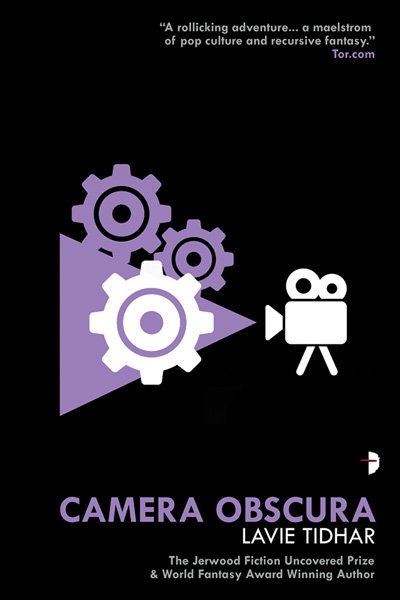 Camera Obscura
"A rollicking adventure…a maelstrom of pop culture and recursive fantasy."
– Tor.com
---
Lady DeWinter is presented with a locked-and-bolted room mystery. To solve it, she'll have to delve into the dark places of society and question her very understanding of reality.
---
File Under: Steampunk [ Alternate History | Reptilian Royalty | Murder Most Foul | The World's Fair ]
---
A standalone novel in the Bookman Histories series
Buy the ebook version now – only
£

3.99
SKU: AR9780857666017
In the last decade of a 19th century unlike our own, Milady de Winter is called to the scene of an impossible crime. A gruesome murder on the Rue Morgue sets her against a ghostly serial killer, and on a voyage that leads from the catacombs of Paris to the wonders of the New World – where new horrors lie in wait.
In Camera Obscura, World Fantasy Award winner Lavie Tidhar combines the Victorian penny dreadful with exploitation cinema to create a wide-screen thriller of redemption: complete with mad scientists, secret societies, Shaolin monks and figures liberally borrowed from the literature of the era – as only he can. Extra! Extra! Read all about it! For the first time, the 2016 edition also includes 'Titanic', a short story from the Lost Files of the Bookman Histories.
First published April 2011 in US massmarket paperback ISBN: 9780857660947, UK paperback ISBN: 9780857660930
| | |
| --- | --- |
| Series | Bookman Histories |
| Publication date | |
| Cover Art | Sarah Anne Langton |
| Ebook | 2nd August 2016 (re-issue) | 9780857666017 | Epub & Mobi | RRP £6.99 / US$6.99 |
| US Print | 2nd August 2016 (re-issue) | 9780857666000 | Massmarket Paperback | RRP US$7.99 / CAN$9.99 |
| UK Print | 4th August 2016 (re-issue) | 9780857665997 | Paperback | RRP £8.99 |
| Goodreads URL | Discuss and Review Camera Obscura |
2011 Sidewise Award Nominee
2011 Airship Award Nominee
"Superb."
– Fantasy Book Critic
"An outstanding novel that appreciates full how to entertain and intrigue, and yet not shirk the big issues the story raises. The storytelling here will keep you on the edge of your seat. I emerged from the final page of Camera Obscura exhausted by the experience, but with a definite smile on my face. It was an incredibly fun read, expertly written and immersive on an almost dangerous level. It's a widely held belief in the circles of genre fiction that Lavie is well on his way to being one of the new monsters of science fiction. This novel is as good an example of why as you're likely to find."
– Matthew S. Dent
"The reader certainly suffers along with the character. At the same time, the characters never cease to be fascinating and I found myself intrigued by the settings, which become characters in themselves. From the underwater squid-like dwellings of Scab to the Little China of Paris, each location is richly detailed, dripping with nuances and characters which bring it to life. It's easy to feel 'there' along with Milady throughout her journey."
– SF Signal
"Camera Obscura is dark, violent, and a fine steampunk thriller that'll stick to your ribs in a way other thrillers don't. It's stuffed to the gills with action and plot … the world-building is deftly done. And Tidhar's Milady de Winter is fantastic. If you like steampunk or just action in general, it's well worth a read."
– The Literary Omnivore
"Overall, I really, really enjoyed this book … It was very well done and very well thought out.  I will definitely be picking up more books by Tidhar in the future."
– Karissa's Reading Review
"Eerie and alluring"
– Bookgasm
"A ripping, shadowy thriller… Mary Berry would be pleased to know that this layer cake has not even a smidgeon of a soggy bottom of disappointment."
–BFSA