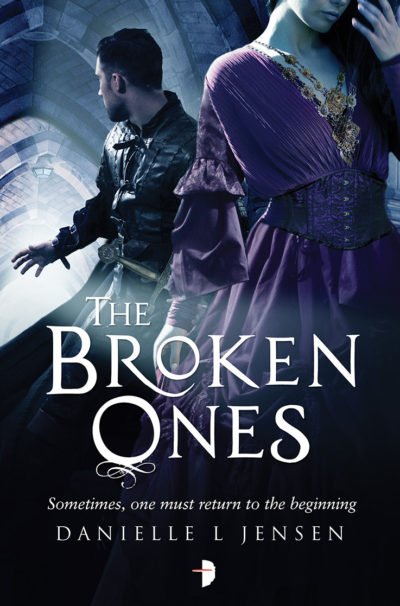 The Broken Ones
"SO GOOD. I am drowning in feels. If you haven't read The Malediction Trilogy then I seriously implore for you to do it before this one comes out. This series is AMAZING. And it has an amazing book boyfriend (who is MINE) and excellent supporting characters. For me, it is Fantasy at its best!"
– The Reader and the Chef
---
The Broken Ones chronicles the ill-fated love affair between Marc and Pénélope as they struggle to navigate the complex political world of Trollus, where powers on both sides are intent on using them as pawns.
---
File Under: Fantasy
---
A prequel to the Malediction Trilogy
Buy the ebook version now – only
£

3.99
SKU: AR9780857666987
Below Forsaken Mountain, a plot is being hatched to overthrow the tyrant king of Trollus, and Marc is the right-hand man of its leader.  His involvement is information more than one troll would kill to possess, which is why he must keep it a secret from everyone, even the girl he loves.
After accidentally ruining her sister's chance to become queen, Pénélope is given one last opportunity by her father, the Duke d'Angoulême, to make herself useful: she must find proof that the boy she's in love with is conspiring against the crown. If she fails, her life will be forfeit.
Marc and Pénélope must navigate the complex politics of Trollus, where powers on all sides are intent on using them as pawns, forcing them to risk everything for a chance at a life together.
Except being together may turn out to be the greatest risk of all.
"SO GOOD. I am drowning in feels. If you haven't read the Malediction Trilogy then I seriously implore for you to do it before this one comes out. This series is AMAZING. And it has an amazing book boyfriend (who is MINE) and excellent supporting characters. For me, it is Fantasy at its best!"
– The Reader and the Chef
"I absolutely loved reading this book! It was so amazing to be in the world before Cecile, to see these friends together when Pénélope was still alive, when she and Marc were falling in love. That love changed the group's dynamics, and I loved reading about it!"
– Words I Write Crazy
"Jensen's ability to create a mood is nothing short of brilliant, engaging and full of torment. Her ability to track the political scheming and constant intrigues leads to finales that are both tragic and unpredictable. A wonderful addition to a brilliant trilogy!"
– Books Before Bandaids
"It was wildly unpredictable and wholly thrilling to read this book – I honestly couldn't put it down because I was so busy, my eyes burning through the pages as I was afraid what might befall the characters."
– YA On My Mind
"I do love the world. I love the intrigue, and the schemes, and evil plots. I love the magic and the messed up nature of it all. And I want everyone to go check it out!"
– The Book Cover Girls
"Both fascinating and so very heartbreaking! If you've read the Malediction Trilogy, you really NEED to read this one and if you haven't read the trilogy yet, what are you waiting for??"
– In Love With Handmade
"I haven't read the Malediction Trilogy. Yet. After experiencing this brutal, magic-driven world where ruthless magic-users don't scruple to use deadly force to safeguard their interest, I now want to know what happens next."
– Brainfluff
"Wonderfully written, I cried!"
– Book Talk (vlog)
"The author challenged my preconception and presented me with a unique story. I was wrapped up into the world of Trollus and the fates of Tristan, Marc, Penelope and the King. Fans of Fantasy should give this series a try."
– Love of the Written Word
"I loved delving back into the world of Trollus and seeing a whole other side of things before Cécile arrives into the picture. I loved how this story played on my heartstrings and made me ache for the characters. I loved Danielle L Jensen and her stories and the way she writes. I love the world building and I feel like she is REALLY good at making you connect with the characters and the story. I can't wait to read more from this author. I love her books and I love this whole series. It's definitely a must own!"
– Book Nut
"Gorgeously written and incredibly bittersweet, The Broken Ones is the perfect prequel I didn't know my heart needed. Danielle L Jensen expertly comes back to the beginning, and she certainly doesn't miss a beat."
– YA Book Central
"It was magical, romantic, and ultimately a heart-wrenching story of love gone horribly wrong."
– Lady With A Quill
"A completely fitting and engrossing end to a wonderful series.  Anyone who hasn't had a chance to start the trilogy, should pick it up as soon as they can – it's a fantastic binge read!"
– Bookish Whimsy
"It really worked for me."
– A Reader of Fictions
"It really is a gift from the author to their readers."
– Lulau Lis
"This novel is now incredibly precious to me, and one I will cherish forever."
– The Reader and the Chef
"Absolutely beautiful!"
– Amy Braun Author
"A beautiful and painful love story."
– Fantasy Raiders
"Interesting and heartbreaking."
– Urban Fantasy Investigations
"Dystopian fantasy brimful of emotion and unexpected plot twists."
– SF Reader
"THIS BOOK? THIS BOOK MADE MY LAUGH AND CRY AND FEEL SO MUCH! "
– The Purple Nightingale
"This trilogy is definitely a hidden gem."
– Holed Up in a Book
"The Broken Ones was a beautifully written book that I really enjoyed."
– Spinatale Reviews
"The author excels at bringing to life the Troll world and its troubles. While intrigue and mystery are skillfully woven throughout the story, the romance is what makes the story a compelling read, especially for those who recognize these characters from later installments. Readers who pick this up unknowingly will be driven to finish the series because of the cliffhanger finale."
– San Franciso Book Review
Praise and Reviews for the Malediction Trilogy
"Stolen Songbird is an absolutely wonderful addition to the fantasy genre. The book is full of magic, adventure, outlandish creatures, and at its heart is one of the most touching love stories I have ever read … This novel takes a very old fairytale cliché, and turns it into a stunningly original and beautiful story."
– Avid Reviews
"Overall, Hidden Huntress undeniably surpasses as a sequel to Stolen Songbird. I was blown away by the ending and cannot wait for book 3! Danielle L. Jensen has shaped an underground city of magical creatures into one of my most valued book worlds – and that makes me extremely excited for future works."
– Life Writings of a Reader