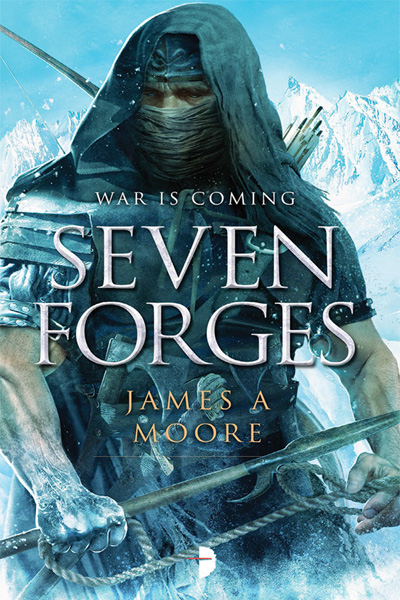 Seven Forges
"Seven Forges is an excellent, enjoyable, and thoroughly entertaining fantasy debut into a new world of swords and sorcery, complete with romance, intrigue, and danger."
– Attack of the Books
---
Warriors from the hard-pressed land of Fellein go in search of the mythical people of the Blasted Lands – and are startled not only to find them, but that they were expected.
---
File Under: Fantasy [ Savage Lands | Vengeful Gods | An Expected Journey | Battalions at War ]
---
Book One of the Seven Forges Series
Buy the ebook version now – only
£

2.99
SKU: AR9780857663849
The people of Fellein have lived with legends for many centuries. To their far north, the Blasted Lands, a legacy of an ancient time of cataclysm, are vast, desolate and impassable, but that doesn't stop the occasional expedition into their fringes in search of any trace of the ancients who once lived there… and oft-rumoured riches.
Captain Merros Dulver is the first in many lifetimes to find a path beyond the great mountains known as the Seven Forges and encounter, at last, the half‐forgotten race who live there. And it would appear that they were expecting him.
As he returns home, bringing an entourage of the strangers with him, he starts to wonder whether his discovery has been such a good thing. For the gods of this lost race are the gods of war, and their memories of that far-off cataclysm have not faded.
| | |
| --- | --- |
| Series | Seven Forges |
| Release Date | 2013-09-24 |
| Cover Art | Alejandro Colluci |
| Ebook | 24th September 2013 | 9780857663849 | Epub & Mobi | RRP £5.49 / US$6.99 |
| US Print | 24th September 2013 | 9780857663832 | Trade Paperback | RRP US$14.99 CAN$16.99 |
| UK Print | 4th October 2013 | 9780857663825 | Paperback | RRP £8.99 |
| Goodreads URL | Discuss and Review Seven Forges |
"Wow, that twist. In some ways I think I should have seen it coming, and I kind of did, but Seven Forges just lulled me into security and BAM! Craziness!"
– Anya, On Starships and Dragonwings
"Seven Forges is a well written fantasy adventure with a very interesting premise and a big world to explore. "
– Celticfrogreviews
"I thoroughly enjoyed Seven Forges although I was left speechless by the ending and left wondering for days whether there was to be another book in the series. There were so many threads of stories left open that I need to know what happens next."
– The Bookish Outsider
"Moore does a fantastic job of building worlds and characters in Seven Forges as we hop on board the train that is about to meet its doom."
– Troubled Scribe
"James A. Moore dedicates Seven Forges in part 'to the memory of Fritz Leiber and Robert E. Howard for the inspiration.' That dedication sets the bar high, and caused me a bit of readerly apprehension, because so many writers have imitated badly those two greats of the sword and sorcery tradition. Moore is far more than an imitator, though. He does some fresh, counterintuitive things with the genre conventions. More than once, he startled me into saying out loud, 'I didn't see that coming.'"
– Black Gate
"Hell, I couldn't get enough."
– Amanda J Spedding