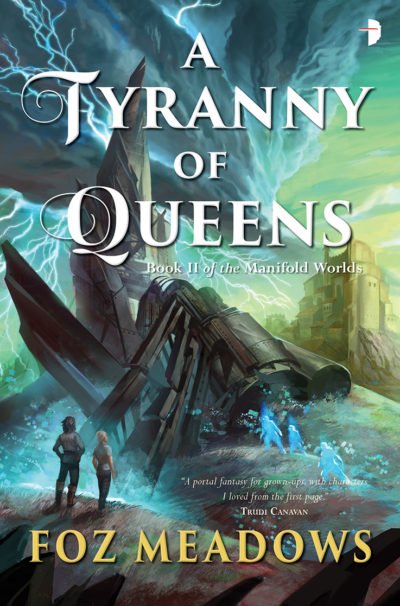 A Tyranny of Queens
"A superlative portal fantasy with a memorable cast, an inventive setting and magic system, and a plot that always goes for the unexpected. Sheer delight."
– Aliette de Bodard, Nebula Award-winning author of The House of Shattered Wings
---
After Saffron returns through the portal from Kena, no one believes her tales of adventure. She can either give in and pretend it all never happened, or fight for herself and her new world. Kena itself is in turmoil, and nobody can be trusted.
---
File Under: Fantasy [ Between the Worlds | Captives | Open the Way | Dragon Flight! ]
---
The second book in the Manifold Worlds series
Buy the ebook version now – only
£

3.99
SKU: AR9780857665898
Saffron Coulter is back on Earth, but even so, nothing is easy. Struggling with the victimising expectations of her friends and family and threatened with a stay in psychiatric care, Saffron has to make a choice: to forget about Kena and fit back into the life she's outgrown, or pit herself against everything she's ever known and everyone she loves.
Meanwhile in Kena, Gwen is increasingly troubled by Leoden's absence and his plans for the captive worldwalkers, while Yena, still in Veksh, must confront the deposed Kadeja. What is their endgame? Who can they trust? And what happens when Leoden returns?
| | |
| --- | --- |
| Series | Manifold Worlds |
| Release Date | 2017-05-02 |
| Cover Art | Julie Dillon |
| Ebook | 2nd May 2017 | 9780857665898 | Epub & Mobi | RRP £6.99 / US$6.99 / CAN $7.99 |
| US Print | 2nd May 2017 | 9780857665881 | Massmarket Paperback | RRP US$7.99 / CAN$10.99 |
| UK Print | 4th May 2017 | 9780857665874 | Paperback | RRP £8.99 |
| Goodreads URL | Discuss and review A Tyranny of Queens |
"A superlative portal fantasy with a memorable cast, an inventive setting and magic system, and a plot that always goes for the unexpected. Sheer delight."
– Aliette de Bodard, Nebula Award-winning author of The House of Shattered Wings
"A superlative portal fantasy with a memorable cast, an inventive setting and magic system, and a plot that always goes for the unexpected. Sheer delight."
– Aliette de Bodard, Nebula Award-winning author of The House of Shattered Wings
"Foz Meadows knows how to write a great fight, tension, and solitary pain like no one else. Meadows' warriors of choice in this sequel to An Accident of Stars are young women who battle in multiple worlds against betrayal on one side and bullying on the other. A Tyranny of Queens is resonant and resounding. An excellent and worthy sequel."
– Fran Wilde, Award-winning author of Updraft, Cloudbound, and Horizon
"A Tyranny of Queens has stronger pacing than An Accident of Stars, and plays the developing strands of its narrative off against each other in ways that heighten tension and highlight the differences – and the similarities – between the characters' concerns. The characterisation is fantastic. The conclusion is nerve-biting and explosive – and has dragons… I really really love it"
– Liz Bourke for Tor.com
"As well as a fully diverse cast of characters, there's beautiful examples of love in all stripes – including royal polyamory. Saffron is an imminently relateable character both for her teenage experience as well as her honest shock at being dumped into strange new worlds. Wonderful series, and one I'll definitely be following."
– Pop Culture Beast
"4 of 5 stars."
– The Review Curmudgeon
"A Tyranny of Queens is an amazing, five-star continuation of the story started in An Accident of Stars."
– Fangirl Nation
"The world building of this series remains awesome. It starts to get into the multiple worlds aspect more, and it couldn't be better! There's just a hint of science fiction to it that makes for a really great genre combination."
– The Illustrated Page
"Full of political intrigue, magic, dragons, and worldwalking, it's a fun and easy to read series. I look forward to reading more by this author – Meadows seems to be getting better with more practice and has a lot of potential in my mind. I recommend this for anyone who loves portal fantasy and who enjoys knowing about up-and-coming fantasy authors first."
– The Bibliotaph
"I love it all the more because it is the metaphorical axe that broke some very deep, very old ice in my internal sea."
– Occasionally Random Book Reviews
"This is a worthy successor, a clever and innovative piece."
– Sci-Fi and Fantasy Reviews
"I adore this book, I loved every minute of reading it. I bought it when I found it on Saturday, and would have finished it faster if it weren't for work in the way of doing so. If you like books that have: worldwalking, dragons, polyamory, queerness, trans characters who are people, horrible people who have motivations that you can see, heart wrenching moments, happy gays, female-led societies, aliens, and so many more, or just want a great book, read An Accident of Stars which is the first book, and then read A Tyranny of Queens."
– On the Hunt for Books
"Reading A Tyranny of Queens is like riding a roller coaster while never leaving the comfort of your home. I can't recall the last book that gave me the same feels, and it is all thanks to Meadow's nuanced, richly-developed characters. I found myself both crying and laughing out loud at various moments, my connection to the story so strong because of the depth of the characters, and the richnesses of the world they inhabit… I really loved this book. It is more than a simple portal fantasy, it is a masterful touchstone by which I will compare future books in the subgenre."
– Shana DuBois for the B&N Sci-Fi & Fantasy Blog
"A 'more realistic' take on the real-world implications of portal fantasy."
– Thought Stream
"Reading this book just made me extremely happy, it's not perfect but damn I love it. It's so original and it deals with issues I can 100% relate to. It is rare to see books dealing so well with a lot of themes that are important to me like casual sexism, bullying and queer relationships. It's a great example of diversity and queer normality: in this world you can be whoever you want to be and nobody is going to judge you for that. All the characters are layered and I could even relate to the 'bad guys' which is not always an easy feat. So would I recommend this? Absolutely: it's not perfect but damn I wish I could have read it when I was younger and if a sequel is coming, I will devour it."
– The Curious SFF Reader
"The world-building is epic, the politics are intricate and layered with meaning and consequences… I can't say enough good things about it, one of my favourite books of 2017."
– The Conversationalist
"This book was not here for me when I was fourteen. It is here for me now, and when my goddaughter is fourteen it will be here for her. And dammit, we will still need it."
– Marissa Lingen
"A Tyranny of Queens is a brilliant and moving work of high fantasy from the marvelous author Foz Meadows."
– The Seattle Review of Books
"A Tyranny of Queens is breathtaking."
– Meredith Debonnaire
"This is fine portal fantasy. Meadows sets up a rich world for her series, and I can't wait to find out more about these worlds."
– Spinning a Corn-Free Yarn
Praise and Reviews for An Accident of Stars:
"A portal fantasy for grownups, with grit and realism, and characters I loved from the first page."
– Trudi Canavan, author of the Black Magician trilogy
"Fantasy readers who appreciate strong characters and excellent worldbuilding will immerse themselves in this tale."
– Publishers Weekly, starred review
"Reminiscent of Ursula K. LeGuin, An Accident of Stars will take you to a lush, magical new world."
– Laura Lam
"I very much enjoyed this.  The main character falls out of our world into a life-changing adventure, with compelling characters and a fascinating world.  I can't wait to read the next book."
– Martha Wells, author of The Books of Raksura
"An Accident of Stars is anchored in dozens of complex women, driven by the rooted, deep relationships they have with each other. It's a wonderful, rich, feminist book, and I loved it."
– B. R. Sanders, author of Ariah
"This fabulous story bowled me over with a compelling blend of intimacy, danger, twisty politics, believably imperfect characters, and a fascinatingly complex universe."
– Kate Elliott, author of Black Wolves and Cold Magic
"Richly imaginative world building with delightfully complex and diverse characters; a joy to read!"
– Ann Lemay, videogame writer
"This is the portal fantasy I've spent my whole life waiting for."
– Liz Bourke for Tor.com
"So this was basically all the things I'd enjoyed about portal fantasies as a younger reader, with the dubious gifts the suck fairy might have bestowed either questioned or removed."
– Ann Leckie
"Beautiful storytelling, a stunning world and concept."
– Shelf Inflicted
"An exquisite fantasy novel that you can't afford to miss! 5/5 stars!"
– Bibliotropic
"An Accident of Stars is one of the most promising starts to any series right now, and I can't wait to see where it goes."
– The Illustrated Page
"I loved this book. It had great representation all around, the world building was spectacular, and the characters were distinct, diverse,  and interesting."
– PopCultureBeast
"Fantasy readers will all find something to like in the wonderful tale. Book 2 better arrive really soon!"
– Bull Spec
"Sometimes I see books described as portal fantasy, and it just seems… insufficient. Not inaccurate, but in cases like this one, it's like trying to describe a beach by using adjectives that only apply to a couple of pebbles in the sand.  An Accident of Stars is a lot more than a magic wardrobe."
– Fat Robot
"This books is great. I loved it."
– Properly Lex
"If you enjoy well-written, character driven fantasy with strong women featuring throughout, a cracking plot and beautifully constructed plot, then go looking for this book. I will be eagerly awaiting the sequel."
– Brainfluff
"Superb."
– Popverse
"I could say that the above is a delightful breath of fresh air, but 'delightful breath of fresh air' seems far too tame a phrase to describe the utter joy I felt reading about this world."
– FanGirl Nation
"An Accident of Stars is the portal fantasy for the 21st Century."
– Strange Charm
"It truly brings epic and portal fantasy to life."
– The Conversationalist
"This story did so many things that ticked all of my boxes!"
– Starship Library
"An Accident of Stars is a joy to read, and manages to be exciting, thought provoking and intensely moving all at once."
– Fantasy Faction
"An Accident Of Stars stands head and fabulous shoulders above most fantasy books I've read, not just this year but in recent years."
– Over The Effing Rainbow
"This book is such great fun you'll want to take a sick day to finish it in one sitting."
– Pop Verse
"Words can't begin to properly express how awesome Meadows is at creating complex and realistic fantasy worlds and the cultures and people that dwell within."
– Bibliotropic – Top Eleven Outstanding Books of 2016
"One of my favorite books I read in 2016. The book was super women and femme focused, and I loved that."
– Odd Leopards, Strange Cats
"A 'more realistic' take on the real-world implications of portal fantasy."
– Thought Stream