Meet the Robots…
Marc Gascoigne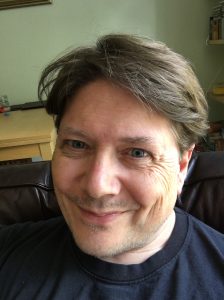 Publisher & MD; the strategies and the slogans, the words and plots and characters and themes, the ethos, the packaging and cover designs and typography; the sneaky little easter eggs and the grand strategy. Previously known for The Black Library, Solaris Books, and even a clutch of delightful Sonic the Hedgehog tie-in books, some of them not even written under a pseudonym. Been around SF and publishing since the mid-80s, so has "opinions". Track him down on Twitter or hear him DJing at an after-party at an SF convention near you soon enough. Our Marco won the World Fantasy Special Award (Professional) in 2011 for his work with Angry Robot; he's been insufferable ever since – and doubly so after he won a similar award at the 2016 British Fantasy Awards.
Lottie Llewelyn-Wells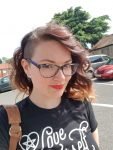 Editorial Assistant. Lottie has long decided that being an adult is rather boring, and therefore spends most of the time living in her own universe filled with unicorns, dinosaurs and swords. After taking up an internship with Angry Robot during her MA, she quickly fell in love with the Robot Overlord's brand of fiction. Although she was lured away for a short while, the chip in her brain was activated and she was summoned back to Robot HQ. When not reading vast quantities of books, she spends most of her time in fandom land, watching ice hockey or baking cupcakes covered in glitter.
Penny Reeve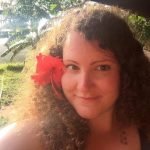 Publicity Manager. Penny started her working life dealing with criminals but quickly realised that the novels of Tom Robbins suited her tastes, rather than those of Fyodor Dostoyevsky, so she left to spend the next few years roaming the world teaching children and Tibetan monks the English language. On returning to the UK, Penny took up a public relations job and worked for used cooking oil, potatoes and retail. However the lure of the Robot Overlords was too much for her and, pulled in by their gravitational force Penny took up an internship. The rest, as they say, is history. Reach her through Twitter here.
Nick Tyler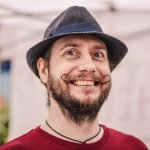 Publishing Coordinator. Nick is now too old to grow up and divides his time between consuming improbable quantities of speculative and fantastic fiction, compering and performing improvised comedy and stories (with MissImp, the Nottingham Improv Comedy Theatre group), writing assorted nonsense, photographing his kittens, and enjoying whisky, beer, Lego, and film. He has a background in dystopian bureaucracy, IT and system implementation which he is keen to forget about. Reach him through Twitter here.
Phil Jourdan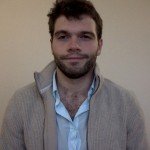 Consulting Editor. Phil is co-founder of LitReactor – a creative writing workshop and literary magazine where professional novelists, graphic novelists and agents host regular classes – and ran the small fiction press, Perfect Edge Books. A Portuguese author and translator, based in the UK, Phil has also fronted the rock band, Paris and the Hiltons, winners of an Independent Music Award, since 2007. His books include Praise of Motherhood, published by Zero Books, and John Gardner: A Tiny Eulogy released by Punctum Books. His book What Precision, Such Restraint is (so he is told) an unreadable mess.