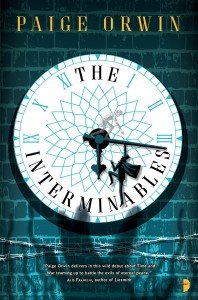 Wonderful news, Paige Orwin fans!
Rights for fantastic post-apocalyptic SF novel The Interminables has been sold to La Corte Editore of Italy. The novel will be available across the country in early 2018.
Here's the synopsis:
It's 2020, and a magical cataclysm has shattered reality as we know it. Now a wizard's cabal is running the East Coast of the US, keeping a semblance of peace. Their most powerful agents, Edmund and Istvan – the former a nearly immortal 1940s-era mystery man, the latter, well, a ghost – have been assigned to hunt down an arms smuggling ring that could blow up Massachusetts.
Turns out the mission's more complicated than it seemed. They discover a shadow war that's been waged since the world ended, and, even worse, they find out that their own friendship has always been more complicated than they thought. To get out of this alive, they'll need to get over their feelings, their memories, and the threat of a monstrous foe who's getting ready to commit mass murder…
Here's what some people had to say about the novel:
"If you're looking for an entertaining piece of dystopian fiction, with magic and heroes and..er..a cat, then this will suit you very well indeed."
– SF & F Reviews
"It will reward you with a world of wonders and horrors, alongside a tale of deep and desperate friendship: a thief and a war, trying to save as many lives and they can."
– SFX magazine
"An interesting and unique read."
– Vampire Book Club
"A dark, depressive, but beautifully imagined urban fantasy/alternate universe. Perhaps one of the most interesting, intriguing, and rich books I've read this year."
– Online Eccentric Librarian
So keep your eyes peeled, and send us snaps of The Interminables as it makes its way across Italy!