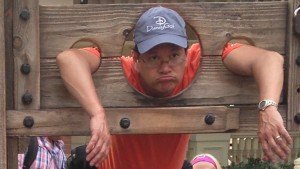 In what is becoming our favourite (okay, only) weekly feature on the Angry Robot site, Talk Tuesday To Us has yet another amazing author ready to tell you a little bit more about themselves. This week Keith Yatsuhashi, author of the forthcoming Kojiki tells all.
Your favourite book?
Jurassic Park.

One book to burn?
Twilight.

What's your karaoke song? 
The theme from Family Guy.
Who plays you in the movie?
Toshiro Mifune.
And what's the pivotal scene?
When I realize I live in 2016, not feudal Japan.
If you weren't a writer, what would you be?
Golfer.
One creative person you've always wanted to be?
Jordan Speith. Hey, a golfer needs to be creative!
The last time you cried? 
Each time one of my kids was born.
Last dream of note?
I was an elf in Santa's workshop.
Complete this sentence: Rewriting is…
What makes a book good.
Kojiki will be in all good bookstores this August.

Join us next time, for more Talk Tuesday To Us!