We do love a good book cover at Angry Robot HQ, and today we're delighted to share with you the stunning new cover for James A Moore's hotly anticipated new novel, City of Wonders.
Thanks go to the brilliant Alejandro Colucci, whose work on James' last cover, The Blasted Lands, earned him a Gemmell Award nomination.
James: "I have loved every cover that Alejandro Colucci has done! He is an amazing artist. That said, finally seeing  Swech illustrated, makes me very happy. The covers for all three of the books has been spot on and Swech is no exception. Swech should be a powerful figure! By my count she has killed more people than anyone else in the book! I couldn't be happier with her portrayal on the cover for City of Wonders."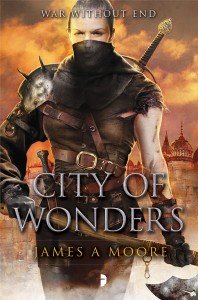 Third in the Seven Forges series, City of Wonders is a must for all fans of epic fantasy.
Here's the official blurb:
Old Canhoon, the City of Wonders, is having a population explosion as refugees from Tyrne and Roathes alike try to escape the Sa'ba Taalor. All along the border between the Blasted Lands and the Fellein Empire armies clash and the most powerful empire in the world is pushed back toward the old Capital. From the far east the Pilgrim gathers an army of the faithful, heading for Old Canhoon.
In Old Canhoon itself the imperial family struggles against enemies old and new as the spies of their enemies begin removing threats to the gods of the Seven Forges and prepare the way for the invading armies of the Seven Kings. In the distant Taalor valley Andover Lashk continues his quest and must make a final decision, while at the Mounds, something inhuman is awakened and set free.
War is Here. Blood will flow and bodies will burn.
The book will be released in November, so now just to wait until then *taps fingers*. However if you'd like the chance to read the book hot off the press, then enter the competitions running at Adventures Fantastic and The Book Plank.