We are thrilled to introduce you to both Matt Hill and his gritty new novel, Graft. Acquired from Sam Copeland at Rogers, Coleridge and White Literary Agency, Graft – scheduled for early 2016 release – is an exciting novel brought to you from the runner-up in the 2012 Dundee International Book Prize.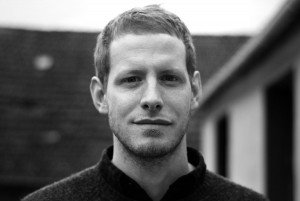 Matt Hill: "I'm chuffed to bits that Graft has found a home at Angry Robot. They've published loads of amazingly written, brilliantly designed books, and I can't wait to start working with the team."
Matt Hill was born in 1984 and grew up in Tameside, Greater Manchester. After completing a journalism degree at Cardiff University, he trained as a copywriter. He now lives and works in London. His first novel, The Folded Man, was runner-up in the 2012 Dundee International Book Prize. Welcome Matt to the Angry Robot family on Twitter, and be sure to visit his site: http://matthewhillswebsite.co.uk/
Phil Jourdan: "Sometimes you get sent a book that ticks every single box for you — plot, character, prose, mood, originality, sheer madness — and you just think, 'Am I actually ready to take this on?' Well, the good news is we're ready. Graft is the perfect addition to Angry Robot's catalogue: a truly unique science fiction book, dark and twisted but gorgeous all the way through."
Graft
Under the Skin meets The Handmaid's Tale meets The Fifth Element… with extra limbs.
In Graft, the near future is bleak — especially in Manchester.
Local mechanic Sol steals old vehicles to meet the demand for spares. But when his partner impulsively jacks a luxury model, the structures of Sol's life begin to warp. Hidden in the stolen car's boot is a three-armed woman with a strange tattoo on her throat. She is Y: rootless, amnesiac, and scheduled for delivery. What she reveals not only forces Sol to confront his own past, but sends him to the threshold of reality – and asks him to cross it.
A novel about the horror of exploitation and the weight of love, Graft imagines a country in which too many people are only worth what's on their price tag.
Praise for Matt Hill:
"[The Folded Man] captures the smell and essence of Britain through its main character, his desires, addictions and strange courage. Written with direct vividness that keeps one inside its totally realised world." – Stephen Fry, Dundee International Book Prize judge 2012
"Some combination of Raymond Chandler, Trainspotting, and Philip K. Dick, Hill's unsettling novel [The Folded Man] is not an escapist fantasy, but rather a call to arms, a plea to change the future." – Publishers Weekly
"[The Folded Man is] a memorable debut with pathos, dark humour and true heart." – Interzone
"The Folded Man, with its well realised fictional world and its oddly captivating, all too human protagonist, is a very promising debut indeed." – The Skinny
"Some scenes [in The Folded Man] are so brilliantly dark, perverse and engaging that your skin tingles with excitement . . . Matt Hill is one to watch out for." – The List
"Reads like Coetzee with ADHD . . . [The Folded Man is] a stunning debut." – Litro