Steve Stone (Artist Partners) has done it again; we're delighted with the cover for The Floating City, the sequel to Craig Cormick's dramatic The Shadow Master. You don't have long to wait, The Floating City is released in ebook and paperback formats, in North America on 2nd June and UK / ROW on 4th June. Until then, here's the magnificent cover (click to embiggen):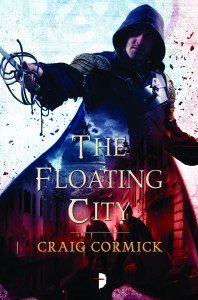 The Floating City
The Floating City is in turmoil. The magical seers who protect it are being slain by fearsome Djinn that rise out of the canals at night. Members of the city's Council of Ten are being assassinated by masked fanatics. Refugee ships are arriving, bringing plague. Othmen spies are infiltrating everywhere. New power blocks are battling for control of the city.
And the three Montecchi daughters, Giuliette, Disdemona and Isabella, are struggling with love and loss,  and with much ado about being able to write their own destinies. And moving amongst them all is the mysterious and deadly Shadow Master, who seems to be directing everyone like players in a game. But as the plots and intrigues converge will he find that some things are beyond even his control?
Craig Cormick on The Floating City
"Writing the Floating City enabled me to both reveal more about the mysterious Shadow Master as well as throw in a few more secrets as well – so expect some more information, but some more mysteries. I also played with three of the original Italian stories and characters that Shakespeare adapted for his plays – and wove them into the story. This enabled me to have three very strong female protagonists – Giuliette, Disdemona and Isabella. Look for them too, but don't expect them to be quite like Shakespeare's characters. And I also cast into the mix some references to contemporary politics, a ripping plot line, a dash of romance, a few murders, some magic and intrigue, some biting humour – and after letting it bake, sat it on the window sill until it had cooled just a little – and I hope you'll find it now tastes just right."