Today we have a cracking start to our 12 Days of Christmas ebook promotion with the first  in  Andy Remic's fantastic The Rage of Kings series, The Iron Wolves, on offer. Please check back in as soon there will be more of Andy's books included in this offer…maybe even the entire Clockwork Vampire Chronicle series!

Here's how to take advantage of our seasonal special offer:

2. Add the book(s) you'd like to buy to your shopping basket

3. Add the magic word 'mincepie' to the 'coupon/voucher' box

4. Click the 'update basket' button and the discount will be applied

And for a festive bonus, here is a Guest Post from Andy Remic:
30 Years – As Author and Spectrum Addict!
Christmas 1984. Like many other kids, I got a ZX Spectrum 48K, along with the most amazing game ever created – Knight Lore. Forget your COD headshots and your Minecraft blocky blocks – you kids never had it as good as we did, this was the beginning, and the Speccy was an intravenous mainline to expanding imagination. Knight Lore: Not only was this the first 3D isometric game, it fuelled my imagination with its central protagonist – a dude bitten by a werewolf. What a fun game! What a fun Christmas! What a brilliant little computer! For me, writing novels, the ZX Spectrum, and Christmas have always been an intrinsic part of contentment. Aged 13, I soon turned from playing games to converting my little books into adventure games. In my mind, the two mediums meshed; writing stories and writing games were perfectly entwined, and I loved doing both. I wrote my first three novels on a rubber keyed Spectrum, saving every chapter (maximum of 3000 words!) to tape. Ouch. Printing was performed courtesy of a Citizen 9-pin dot matrix. I can still hear the cacophony, a vampire's claws scratching the inside of a nailed coffin lid!
Fast forward 23 years. Wow! That went quick… In 2007, when my SF novel Biohell was published, I booted up my old Speccy and wrote an accompanying adventure game, surprisingly enough entitled: Biohell – A ZX Spectrum Bio-Adventure. A few Spectrum industry veterans reviewed it (unnecessarily kindly) and I formed a new friend in Joffa – Jonathan Smith, who wrote original Spectrum games like Cobra, Green Beret and Mikie. A true gent, he didn't horribly massacre my humble rubber-key stabbings (as maybe he should).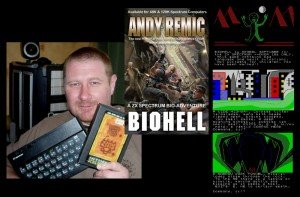 As the 30 year anniversary of that little Spectrum computer and that fabulous game and Christmas loomed close, I dug out the machine with the intention of introducing my children to Knight Lore exactly 30 years to the day after I played it. I fancied I would film the footage, and include it in a documentary I'm working on – Memoirs of a Spectrum Addict (http://www.spectrumaddict.co.uk/). It would feel like I'd come full circle in some weird way, and I'd be introducing my kids to a certain part of my mental clockwork; a certain element which made me tick and tock.
Imagine my AMAZEMENT to discover this dude, Luca Bordoni, had only gone and written Mire Mare as a tribute to Ultimate. Mire Mare, for those not in "the know", was the game cited as a follow-up adventure when an eager munchkin completed Knight Lore. I waited years for Mire Mare – which was never coded.
Now, I downloaded Luca's game, drooled over the graphic screenshots, was tempted by Mister Beep's tempting music (I've heard his work before, and he's a Spectrum music maestro!) and my hand hovered trembling over the mouse as this, truly, to a cynical old goat like me, was an awe-inspiring moment…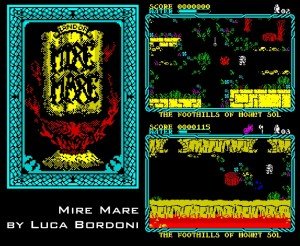 BUT WAIT FOOLISH REMIC! What about loading Mire Mare up on Christmas day 2014 – exactly 30 years after playing the original Knight Lore? Now THAT would be something special. Even better than my impending iPhone 6, Specialized MTB, and well matured single malt whisky!
So that's what I'm going to do, peeps. My children and I will play Knight Lore – and then Mire Mare. Everything goes in cycles. The snake eats its tail. And hopefully, 30 years from now, my children will share this nostalgic experience with their little 'uns.
Merry Speccy Christmas!
And maybe soon I'll sort out some bona fide ZX Spectrum versions of my latest Angry Robot dark fantasy novels….. The Iron Wolves and The White Towers. Now there's an interesting concept……….
Check out www.andyremic.com for more ramblings by the retro-obsessed Angry Robot author.