We are delighted to announce that Wesley Chu, author of the award-winning Lives of Tao series, has signed on for three new science fiction novels in an Angry Robot Books record six-figure deal.
The World English deal, signed with agent Russell Galen, is for Wesley's new standalone series starting with The Rise of Io, publishing in August 2016. Although The Rise of Io is set in the same warring Genjix and Prophus universe as the Lives of Tao books, this brand new series will open the Quasing world to new readers as well as fans of the hugely successful Lives of Tao books.
The new trilogy picks up eight years on from the events of The Rebirths of Tao, the conclusion of Chu's current series, which will be published by Angry Robot in April 2015. For more detailed information on The Rise of Io, click through to the book's page here.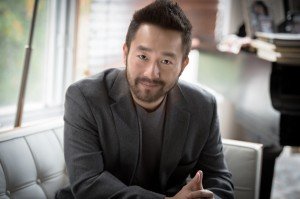 Wesley Chu: "Batteries recharged. OS upgraded. Sharks with frigging lasers fed. It's time to kick some ass! When I first made my strategic alliance with the metal overlords to take over the world, I didn't think humanity stood a chance. Now with Watkins Media joining the team, victory is inevitable! Still dibs on New Zealand!"
Marc Gascoigne: "Wesley Chu's Tao series has been a runaway success for Angry Robot, and we're delighted that he has re-signed for us for this brand new trilogy of novels. He manages to combine lofty science fiction themes with pure Hollywood pacing, and quite frankly his novels just rock. With Angry Robot recently moving to new owners, Watkins Media Ltd, we're delighted to have the resources to take Wes' sales to a whole new level. His world domination is now only a matter of time."
About Wesley Chu: Wesley Chu's best friend is Michael Jordan, assuming that best friend status is earned by a shared television commercial. If not, then his best friend is his dog, Eva, who he can often be seen riding like a trusty steed through the windy streets of Chicago. In 2014, Wesley Chu was shortlisted for the John W Campbell Best New Writer Award. His debut, The Lives of Tao, earned him a Young Adult Library Services Association Alex Award and a Science Fiction Goodreads Choice Award Finalist slot. The sequel, The Deaths of Tao, continues the story of secret agent Roen Tan and his sarcastic telepathically bonded alien, Tao. Chu has two books scheduled for 2015: The Rebirths of Tao from Angry Robot plus Time Salvager from Tor.
Wes took the time to talk further about the deal with Aidan Moher over at A Dribble of Ink.
Reach Wesley Chu on Twitter: @wes_chu and his website: www.chuforthought.com