We are excited to announce Ferrett Steinmetz has joined the ranks as an Angry Robot author. Signed from Evan Gregory (Ethan Ellenberg Literary Agency) the World English deal is for two books. The first of those, Flex, will be published in October, 2014. Ferrett is a Nebula-nominated author whose blog post "Dear Daughter: I Hope You Have Awesome Sex" went viral in 2013.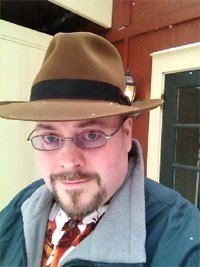 Ferrett Steinmetz: "When I was shopping this novel around, I told my wife 'If I could pick any publisher, I'd choose Angry Robot.  They're smart, I like their books, and they care about their authors.'  And lo!  I hit the jackpot.  And now I do the Snoopy dance of happiness."
To read more about
Amanda Rutter: "I have always enjoyed fantastic urban fantasy and reading Ferrett's book gave me a shiver because I knew this was a really exceptional example of the genre. It's geeky, imaginative and just plain fun, with a nod and a wink to popular culture that made me grin as I read. I can't wait for other people to explore his world."
Flex: 
A desperate father will do anything to heal his daughter in a novel where Breaking Bad meets Jim Butcher's Dresden Files 
FLEX. Distilled magic in crystal form.  The most dangerous drug in the world.  Snort it, and you can create incredible coincidences to live the life of your dreams.
FLUX:  The backlash from snorting Flex.  The universe hates magic and tries to rebalance the odds; maybe you survive the horrendous accidents the Flex inflicts, maybe you don't.
PAUL TSABO: The obsessed bureaucromancer who's turned paperwork into a magical Beast that can rewrite rental agreements, conjure rented cars from nowhere, track down anyone who's ever filled out a form.  But when all of his formulaic magic can't save his burned daughter, Paul must enter the dangerous world of Flex dealers to heal her.  Except he's never done this before – and the punishment for brewing Flex is army conscription and a total brain-wipe.
About Ferrett: After being bitten by a radioactive writing bug at the 2008 Clarion Writer's Workshop, Ferrett Steinmetz unlocked the ability to scale previously impossible publishing walls. Since 2008, his work has appeared in Asimov's, Apex, Intergalactic Medicine Show, Shimmer, and Escape Pod among many other publications, and in 2011 was nominated for a Nebula for his novelette, "Sauerkraut Station." He lives in Cleveland with the best wife in the world, a small black dog of indeterminate origin, and a friendly ghost.  He blogs about puns, politics, and polyamory at his blog www.theferrett.com, and can be found Tweetering at @ferretthimself.