If you didn't think sci-fi books came much better than Ramez Naam's Nexus, you need to get your hands on Crux, the dazzling sequel!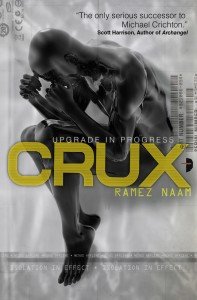 Released in January of this year, Nexus was a hit with reviewers and readers alike, and with a Paramount Pictures movie deal announced in March, readers were excitedly looking towards the sequel, Crux. The wait is over, friends, for today is the US & ebook birthday for Crux and here's where you can get this wonderful book:
North American Print & Ebook
Amazon.com | Amazon.ca | BarnesandNoble.com | IndieBound.org
DRM-Free Epub Ebook
The Robot Trading Company
For our UK / ROW family members, you don't have too long to wait, but until then why not check out io9's exclusive  Chapter 1 excerpt?
Happy book-birthday, Ramez!
Advance Praise for Crux
"A blisteringly paced technothriller that dives deeper and even better into the chunky questions raised by Nexus. This is a fabulous book, and it ends in a way that promises at least one more. Count me in." – Cory Doctorow, author of Little Brother
"Smart, thoughtful, and hard to drop, this richly nuanced sequel outshines its predecessor with a wide cast of characters and some complicated, uneasy questions about power, responsibility, and the future of humanity." – Publishers Weekly (read more)
"Potent like Naam's vividly imagined nano-drug Nexus, Crux is a heady cocktail of ideas and page-turning prose. It left my brain buzzing for days afterwards." – Hannu Rajaniemi, author of The Quantum Thief
"Crux is an outstanding speculative fiction adventure … in the same league as Michael Crichton and Daniel Suarez. Put it at the top of your summer reading list!" – Scientific American (read more)
"Sublime. This book is speculative fiction at its finest.. Mr. Naam masterfully mobilizes the zeitgeist of contemporary political and tech culture.. Tempts readers with equal parts dread and optimism. This is not a book to be missed."  – Page of Reviews (read more)
"Readers of Ramez Naam's techno-thriller NEXUS will not want to miss the awesome sequel, CRUX." – Kurzweil AI (read more)
"Crux does the work of great science fiction. It makes the reader look closely and critically at what kind of world we're building here and now." – Kent Peterson (read more)
"Naam's writing is always strong, fluid and sure. With gripping, heart-pounding action scenes and muscle-binding tension normally reserved for horror stories, Crux is a book you don't want to miss." – Always Unmended (read more)