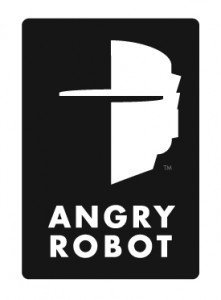 Angry Robot's swathe of cool genre imprints is in need of a lively PUBLICITY MANAGER. The aim of this job is to work with our divine authors, our favourite bookshops, our lovely bloggers and the Robot Army, and our fab distributors who link this all together, to promote the hell out of our books.
Duties include arranging signings and store promotions, placing reviews and articles online and in print, blogging and attending events. You'll also be making sure all the metadata that feeds all this activity is both correct and snappier than an alligator at lunchtime.
Don't delay – the closing date is noon GMT on 25th March 2013. More details, including how to apply, after the jump:
• The job will include work for Angry Robot (SF/fantasy), Strange Chemistry (fantastical Young Adult) and Exhibit A (crime/thrillers), so an enthusiasm for those genres is essential.
• You'll be a good communicator, with plenty of ideas and some experience of generating buzz with a modest budget.
• Experience of the UK booktrade and the blogosphere would obviously be useful.
• In return you'll be joining the coolest SF publisher in the land, become a valued member of our happy band of renegades, and help shape us as we head for total global domination.
• We're a part of the award-winning Osprey Group of companies, small enough to care, big enough to kick ass.
• The job is based in Nottingham, UK, so if you need a plane ride to get to an interview it's not for you.
If you are interested, please apply with your CV and salary expectations to AR managing director Marc Gascoigne, care of incoming [at] angryrobotbooks.com with the subject line 'Job Application – Fiction Publicity Manager'. No postal applications, please.