Next Thursday (4th April) sees the UK launch of Adam Christopher's The Age Atomic. This brilliant sequel tells the story of what happens after the events at the end of Empire State.
The book has already garnered some fantastic reviews –
CNN.com describes it as "a blast for sci-fi fans", and Chuck Wendig says that it's "a rare follow-up that's better than its predecessor."
Adam will be reading from – and signing copies of – The Age Atomic at the London Forbidden Planet Megastore from 6.00pm until 7.00pm on the day of publication.
But wait! There's more!
Not only will you have the opportunity to pick up a signed copy of the paperback, you'll also be able to pick up one of only 100 copies of a limited edition hardback, produced exclusively for Forbidden Planet! And at £20 for one of just 100 copies, that's sure to become a collectors' item! If you can't make it to the launch event, you can pre-order a copy, here.
But wait! There's even more!
"Surely not!" you say.
"Absolutely, yes!" we reply.
"Get on with it!" shouts a voice from the back, but we look around too slowly to see who it is…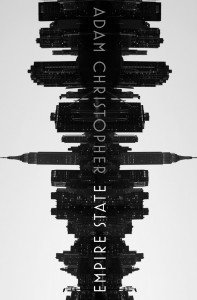 In addition to the 100 copy limited edition hardback of The Age Atomic, we've also produced a 100 copy limited edition of the book that started it all – Empire State. Again, this is exclusive to Forbidden Planet, and you can pick up a copy on the night (you'll also be able to pre-order from Forbidden Planet's website, later today).
But wait! There's even more news!
"Oh, now, Mr Ambassador, you are surely spoiling us!"
The 100 copy limited edition hardback of Empire State has a variant cover, by the original artist – the uber-talented Mr Will Staehle. So, grab a copy of an extremely limited edition run, of SciFi Now Magazine's Best Book of 2012!
But wait!
"No. That's enough, surely," you opine.
"Oh, OK," we agree.
For now...
____
Check back tomorrow for details of Joseph D'Lacey's Scottish and English launch events for Black Feathers…